Marketing concepts such as content and SEO are closely linked. The article below shares how to leverage content marketing and Google answer boxes to achieve better rankings. CK
Article written by Spencer Smith originally appeared in NewsCred Insights on June 14, 2017.
SEO and content marketing go hand-in-hand.
Valuable information is the north star for best-in-class content marketing. Rather than overwhelming potential customers with promotional ads, content marketers seek to build trust and loyalty through content. We strive to provide people with relevant, helpful, and actionable information.
That's why thought leadership is often top-of-mind. Many marketers develop content hubs to house all the information people need on a given topic. Take Pfizer's Get Old, which owns the conversation around aging. Or Infusionsoft's Knowledge Center, taking hold of the dialogue around email marketing.
But even the best content won't be effective if no one reads it.
That's why SEO is a huge talking point in the industry.
Content marketers seek to answer peoples' questions. And when people have questions, they turn to Google.
Which means that our content must appear prominently in search.
As an Account Manager at NewsCred, I've had the pleasure of working with some of the most innovative and advanced content marketers in the business. Despite them leading the content marketing space, many still struggle to get their content in the top spaces of Google's search engine results pages (SERPs), unless they invest in paid search.
The good news is that there's a fairly untapped opportunity to rank even higher than the first result on the page: Google answer boxes.
What Are Google Answer Boxes?
Google answer boxes are officially known as "featured snippets."
Here's an example of one that appears when you Google "how to develop a marketing strategy":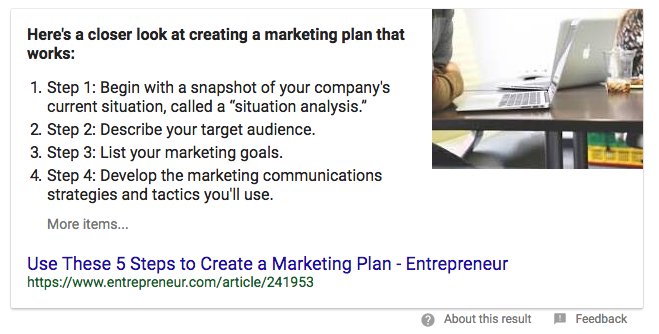 As you can see, the box occupies a prime piece of real estate on the SERP. It includes an eye-catching image and list that draw viewers' attention away from other results.
Google is implementing more answer boxes each day. Stone Temple Consulting recently conducted a study that found that out of 1.4 million queries, 30 percent included featured snippets – a number that has continued to rise over the years.
The good news for marketers? There's no cost to appear in the boxes, other than the resources it takes to produce a strong piece of content. Here are key considerations to keep in mind as you're creating that content.
Identify What Questions You Can Answer Authoritatively
As content marketers, we create content around our areas of expertise. We seek to give customers helpful information at various stages in their buyer journeys.
This is a great starting point for ranking in answer boxes: Think about answering a question your audience will ask – and that you can answer.
If you're a large telecommunications company looking to become a thought leader in the space, for example, you may be successful appearing in an answer box for a question like, "How to optimize your company's telco space." You may have a better chance ranking for a specific question like that, as opposed to something more generic that may not require a cited answer, like "telecommunications definition."
Create Quality Content
Quality content is at the heart of successful content marketing – and SEO.
After all, users love quality content, and so does Google.
Google will award sites that consistently produce quality content with high SERP rankings. This means that your content should be comprehensive, actionable, and accurate. Without a well of content that meets those standards, you'll be unlikely to show up in an answer box. (Though don't fret if you fall into that category – start by laying the foundation of quality content that'll eventually get you into the boxes.)
Format Your Stories to Align with the Answer Box Style
Featured snippets take three main formats.
Paragraphs are the most common, accounting for 63 percent of all answer boxes. They tend to answer questions that beg for a longer description than a single number or word.

Lists are the second most common format and are certainly relevant to content marketers who are listicle fans. These answer boxes usually include instructions, how-tos, and steps to complete tasks.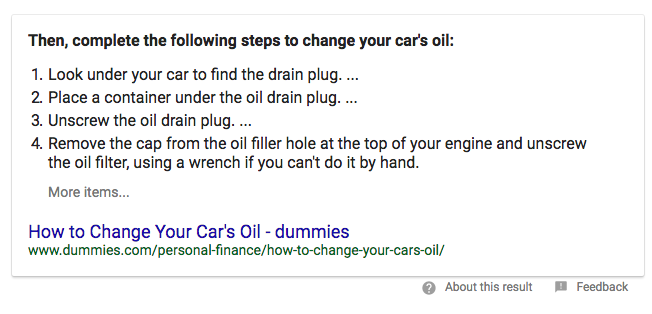 Lastly, tables are usually used to compare certain services or to convey data. These may not be as relevant to content marketing, but may be useful in case you have information that may fit this model.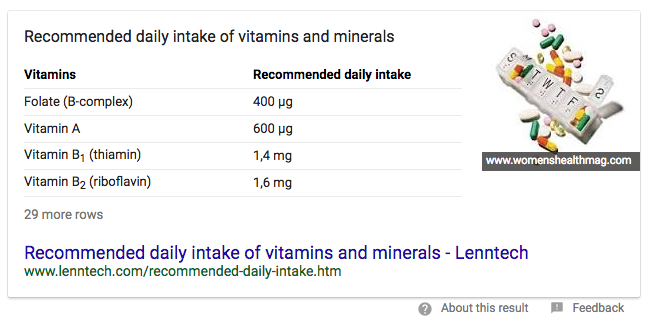 Keep those formats in mind as you're creating content. Your content needs to match the paragraph, list, or table styles of featured snippets in order to appear in one of them.
In addition, you need to use more literal language than you might be used to, especially when your job as a content marketer is to find creative ways to convey information.
If you're working in renewable energy and want to own the space of hydrogen energy vehicles, spell out questions such as "What is hydrogen energy?" within the body or title of your content, as opposed to coming up with unique or obscure phrases like "Hydrogen energy, explained."
Look for Search Terms in Your Space that Already Have an Answer Box
If you run a few queries and find that someone already owns the featured snippets, you can usually co-opt them by proving more accurate, comprehensive, or better-formatted answers, according to Moz SEO expert Rand Fishkin.
The good (or bad, depending on how you look at it) news is that there are a lot of weak answers owning these spaces. So there's a huge opportunity to own them if you set them as your target.
Also, I wasn't able to find anything in my research that indicated that Google would create an answer box if it doesn't already exist. So, it's best to focus your efforts on getting into an existing one as opposed to assuming one will be created for your content.
Remodel Your Existing Content
I always advise the content marketers I work with to reuse their existing content in new ways if they aren't already. Scan through what you already have and look for opportunities to reword or reformat your content to fit the requirements of a Google answer box.
Say you have a long-form article. You could change the format to a Q+A so your answers may be more likely to get pulled into answer boxes. Or, is there a section that you can break out into a smaller article with a table?
Moz's Fishkin brought up another good point in this video: losing clicks to answer boxes.
In order to avoid this, he recommends that you reach the maximum character count Google allows. Doing this will make it so that the featured snippet is only a preview of the full text and would require a visitor to click through to your site in order to read more. For example, if I search the steps of starting my own business, I need to click through to the cited source to get the full answer.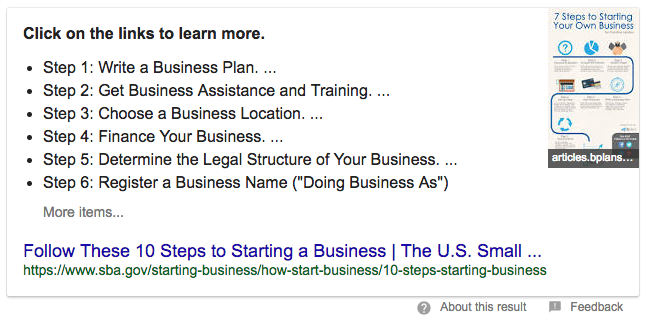 If you're not yet convinced, I'll say it again: If you're a content marketer, you should be talking about Google answer boxes.
Before you know it, marketers will be just as focused on this prime opportunity to rank at the top of the pack as they are with standard SEO talk. Get ahead of the imminent flood of competition and grab this chance while the odds are in your favor. And now, when you worry about thought leadership, consider it optimized.
https://insights.newscred.com/content-marketing-google-answer-boxes-how-to-rank/